Today we'd like to take you through one of our newest additions to our integrations for receiving StatusCake alerts. Whilst being a relatively new service, Discord has already made a big impact and already has a user-base of over 90 million individuals world wide.
There are some big advantages to using discord as your alerting platform with StatusCake. First of all it's very easy to set up the server that will receive the messages in comparison to similar services, it's a task that can be easily achieved by the most basic users in a very short period of time. What's more it's even easier to set up this integration on our end, all you will need is your "Discord Webhook URL"
Discord is also available across all mobile and desktop platforms, so you can get alerts to your phone and computer no matter which brands or operating systems you go with. As well as that there's a functional browser version of the app for when you need quick access from an unfamiliar device. There's support for multiple staff members and the separation/distribution of alerts into different channels within your discord room too – giving you the power to configure this to fit your needs precisely.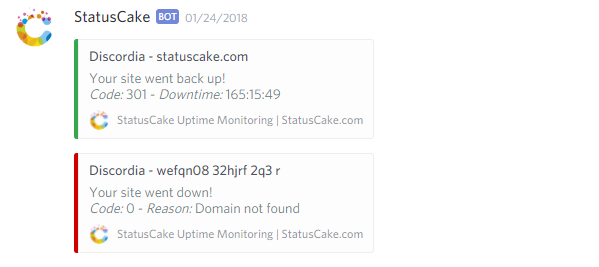 All this is available for free after a simple sign up over at discordapp.com , once you are done you just need to pop over to our integrations page to start getting the alerts into your own Discord room.