Love is destructive. Don't worry we're not all philosophical, it truly is causing a devastating impact on retailers around the world this Valentine's Day 2016. So what does the surge in Valentine's day traffic do for uptime & performance? Let's have dive in to the statistics!
First of all, let's define the type of sites we've monitored for the two-week period leading up to Valentine's day: We've picked US & UK sites that offer a dedicated section for Valentine's day, and excluded any sites that are partners of another site we've already included. Total sites used in the sample group is 221. Not scientifically robust, but a fair enough representation.
Load Time
The first thing we'll look at is the average load time in seconds as an average across the whole spectrum of sample groups. It very closely follows the sales cycle for valentines day, with a sharp drop off around the 13th (the cut of date for a lot of online deliveries for valentines day).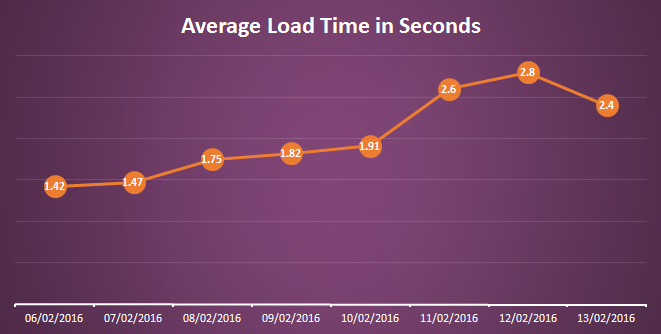 Uptime
Uptime for the sample groups is at a standard of 99.7 with a deviation of around .2 so Valentine's day has had a clear impact on the general uptime. The downtime mirrors quite closely average load time, suggesting that when the sites are getting the surge in traffic not only are they delaying content delivery but some simply can't take the load and crash under the weight.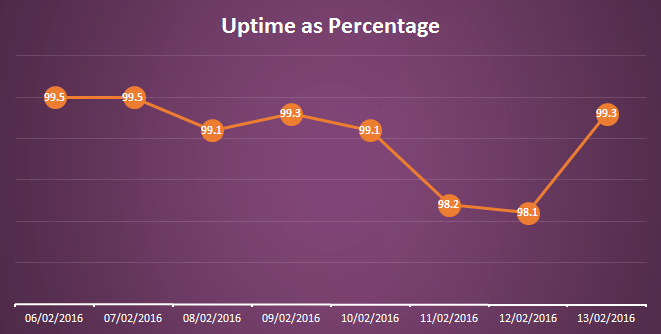 Summary
Based on the data we saw over the Christmas period there is a clear difference in the amount of preparation tech teams are spending on Valentine's day compared to the Christmas sales period, while we didn't see any huge increase in downtime around Christmas both performance & Uptime took a hit for Valentine's. Love truely is is destructive