Google SSO (Single Sign-On) is an authentication tool used to keep you secure from having to save passwords when registering to a service online. The only authentication that is required is that you log in via your email account that is hosted by Google.
Google SSO is available on all plans!
Here are the simple steps to get yourself set up with SSO:
New User to StatusCake?
Registering to StatusCake using SSO
To register with SSO go to the registration page, and simply click on the "Sign in with Google SSO" button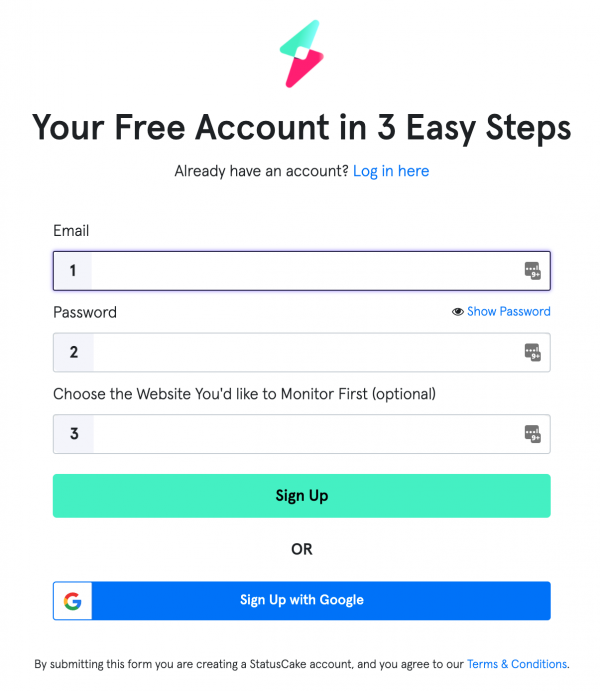 You will be taken to an external page hosted by Google and asked for your email details. Once you complete the request you will be taken back to StatusCake, and registered to the platform.
Signing In to StatusCake Using Google SSO
As long as you have an account on StatusCake that has been set up using Google SSO you can log in at any time via the "Sign In with Google" button on the Login Page.
Already Have a StatusCake Account?
Link Your Existing Account to Google SSO
Go to the "My Account" setting on the top-right user panel.
Click the "Link Google Account"

From here you will be presented with a Google consent page. Click the account you would like to link, and enter your password (if required).
That's it! You're now set up to use your Google SSO when logging in to StatusCake!
Remove Google SSO From Your Account
If for any reason you wish to remove SSO from your account:
Go to the "My Account" setting on the top-right user panel.
Click the "Unlink Google Account"
You will be asked to provide a new password for your account. Please ensure you fulfil the minimum requirements to maximise the security of your password.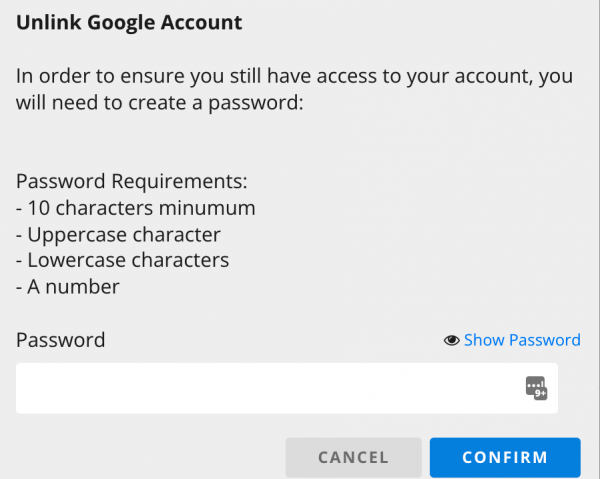 Once you confirm you will now need to login to StatusCake with your new set password from now on.
If you have any issues signing up to StatusCake using Google SSO then get in touch with our support team at [email protected] or click the chat bubble on the bottom-right corner of the screen.
FAQ
Why won't my account register with SSO?
If your email is already in use on StatusCake, you will not be able to register via SSO. You will first have to log in to your account using your password, and then go to your Account settings (as shown above) to Link your SSO to your account. If you do not remember your account password you can reset it here.
Can I use any email address for SSO?
You will only be able to use '@gmail', '@googlemail' or any email address you might have set up when using Google Workspace Services
Can I link a Google SSO between accounts?
If for example, your StatusCake account is "[email protected]" you can link your Google SSO to another email address (e.g. "[email protected]") so long as you have never registered your SSO email to StatusCake already.
Note: Once your account is linked you will only be able to access this account via your SSO email, and not the email address you've provided to StatusCake beforehand. For consistency, we recommend updating your StatusCake email to match your SSO email BEFORE linking your SSO account.