Blacklist monitoring checks your domain name against spam blacklists, ensuring that you're message deliverability and customer access isn't degraded. Ensuring you're not blocked is of vital importance if you run any sort of email campaigns and of even more importance it can alert you to your mail servers being misused!
Blacklist checking is disabled by default on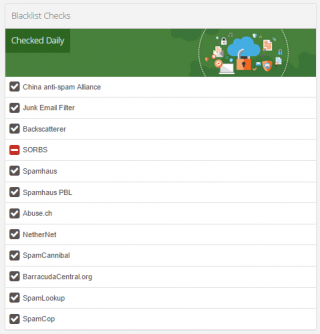 all new and current tests, however, it's a simple process to enable it. When editing or adding a test navigate to 'Test Settings'. Here you will find the option to enable Blacklist Monitoring, just click enabled and then save – that's all it takes! If you need a bit more control then you also have the option to monitor a different IP or domain, this is entirely optional, and the vast majority of users can leave this field blank.
Once enabled our systems will go out and ask industry leading blacklists the status of your IP or site and report back to you the outcome on the test details page. If any of your tests gets included in a blacklist then you'll be alerted, giving you the power to take action and clean your brands reputation.
Notes: 
We add new blacklists weekly, if you have one you'd like added get in touch and we'll be happy to look into it.
It will NOT alert you on results of first enabled output (in otherwords if you're site is already on blacklists when you enable it will not send email alert, it will still display)