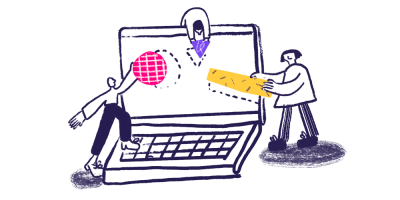 How long does your recruitment process typically take?
For successful candidates, it generally takes up to 2 weeks to make it all the way through our process; in practice it may be quicker.
Why does the recruitment process take so long?
We believe that finding the right candidate is important not just for us, for you as well. As such we have several steps in our process. There is also a task that we ask you to carry out which is then received by our team; and discussed.
Although this task might add time to the process, we believe it replicates some of the elements of how we work as a team. The task is designed to ensure that everyone – us here at StatusCake, and you as someone coming into the business, are right for each other and the role you're applying for.
However long the process takes we'll always aim to respond as quickly as possible to you, and keep you up-to-date on your progress within the process.
How long will the role be open for?
Unlike many businesses who follow a process of shortlisting a set number of candidates per stage, we follow a rolling recruitment process. This means that we keep assessing candidates until we've closed the role.
The role will therefore be kept open until we have made an offer to a candidate, and that offer has been accepted. It is possible that you may apply for a role shortly before we close it, but in such cases we will respond to you as quickly as possible to let you know that the role has closed.
What steps are involved in the recruitment process?
All candidates that apply for the same role will follow the exact same steps in our recruitment process. There are two, slightly different, recruitment processes, depending on whether you're applying for a role with our engineering tribe, or in a different part of our team.
You can find the engineering recruitment process here, and the process for all other roles here.
Whichever recruitment process you are following at each stage we receive the candidate's submissions, as well as any interactions we have had with them, to determine whether we want to invite the candidate to move to the next stage of our process.
Prior to the offer stage there will be a call from someone within the senior team, and the CEO.
Why do you ask candidates to record a video?
We use a video to get to know more about you. Your video will help us to get a better feel for your personality and communication skills. We're not looking for great production skills – we just want to hear from you, about you, in your own words.
Who will I speak with during the recruitment process?
Throughout the first three stages of the recruitment process you'll hear from someone in our recruiting team, the hiring manager, and prior to an offer being made, a member of the senior team or the CEO.
We will always tell you who you'll be speaking with at any next stage of the process – who they are, and their role within StatusCake.
If the role is remote, why does it matter where I'm based?
All roles at StatusCake have some kind of time zone requirement. This is because our main senior team is based within the UK. It is also important that all our engineering roles are based in the European, African, and Middle Eastern time-zone because the team needs to collaborate in real time with each other.
It may be that from time-to-time we offer roles in our customer support team which is more aligned towards North and South America as we have a high percentage of our customers in those regions.
If you do not physically reside in the time zone advertised on the role you are applying for, then unfortunately your application will be rejected.
We have seen other companies try to make it work by offering roles to team members in off-set time zones however this does not work for all manner of reasons – including from a wellbeing perspective. No team member should be expected to be having extra early morning, or late at night calls because colleagues are based in a different time-zone.
Does it matter which country I am based in?
As long as you meet the time-zone requirement it doesn't matter which country you are in. You should however ensure that you are legally eligible to work in the country you choose to locate. And that you have the right to work in the location you are employed.
How does StatusCake approach compensation?
We do not adjust compensation according to where you are located. We are looking for the very best person for each role, so where you are located should not determine how much you are paid.
Quite simply the compensation for each role will be based on the value that the best person in that role can bring to the company. In order to benchmark all compensation, as a UK business based in London, we based our roles on London compensation packages.
Why do you provide compensation ranges on your job descriptions?
In a traditional corporate environment, compensation is often hidden on job descriptions because it becomes a game of cat and mouse to figure out the salary the candidate is on, and from there work out how much the hiring manager can get away with paying the candidate.
At StatusCake each and everyone of us seeks to work in a respectful, transparent, and collaborative environment. Trying to "game" a candidate's starting salary is the antithesis of that.
There are two other key reasons why upfront transparency on compensation is important.
Firstly, we do not want anyone to spend time applying for a role only to find out that the compensation isn't right for them.
Secondly, and most importantly, research has shown that omitting compensation on job descriptions can perpetuate the gender wage gap. It has been shown to discourage candidates from asking for better pay; particularly impacting women and people of colour.
Creating a team at StatusCake that includes team members of all backgrounds and identities and creates a team that is tolerant and inclusive. Those different lived experiences, through our shared core values, help us to make StatusCake, and our product, better.
How are StatusCake team members employed?
At StatusCake we're able to provide official employment status to those located in the United Kingdom, and through an Employer of Records in the United States.
If you live elsewhere, we will work with you to look at the tax and regulatory position in your country, and discuss whether you're able to join as an employee, or as an independent contractor.
What is the difference between being employed, and being an independent contractor?
We want to fill each role we advertise with the best person regardless of where they live with the time-zones we need to work.
Unfortunately though the regulatory framework in every country is different and it isn't always possible for us to directly hire individuals as employees in certain countries. Where employment regulations restrict us from employing you directly, we will take you on a freelance contractual basis.
All our employees and contractors are afforded the same autonomy and work in the same way day-to-day. Whilst the perks we offer may vary slightly depending on where you are based, in practice the main differences are around taxation, pension and retirement entitlement, and healthcare. If you are a contractor it is your responsibility to ensure that these items are managed by you.
Is travel required at StatusCake?
The level of travel you will be required to undertake will vary depending on your level of seniority, but in practice it is rarely required.
We generally have a company face-to-face meet-up each year for 2-3 days. As a fully remote company these meet-ups enable you to get to know team members better; particularly those in different teams who you may not interact with on a day-to-day basis. The team meet-ups are about bonding with team members, rather than business meetings, and are voluntary.
Smaller teams may also meet 1-2 times a year for several days of collaborative face-to-face work. Again whilst these are not obligatory, we do encourage all people within that team to attend.
If you are a member of the senior or executive team you may be asked from time-to-time to attend board meetings as required, but in practice, such meetings can ordinarily be carried out online.
How does remote working actually work?
If being physically surrounded by your team members is important for you, then StatusCake is unlikely to be a good fit for you. That said, our perks allow you to use your remote working budget to work in a physical workspace if that suits you best, and the ways in which we work and the tool we use, foster many of the elements of physically working together but in a virtual environment.
In short we don't care where you work as long as you have a good internet connection, and you're within the time zone associated with your role.
To ensure the best possible collaboration between all team members, we require everyone in the team to be online Monday to Friday between 1pm-5pm (UTC).
If I'm offered a role at StatusCake what references do you need?
Our recruitment process is designed so that by the time we come to make you an offer we've already decided we want to work with you. References are not there to help us make-up our minds, or look for any red-flags, but rather to learn a little more about how we can support you in your new role.
We will only request to speak to any references after an offer has been made. We would like to speak with two people who you've worked with, and who knows you well.
Do you carry out any background checks prior to joining?
All team members are required to complete a number of tasks and checks prior to joining StatusCake.
The tasks and checks that you are required to complete will vary depending on the role that you are being hired for, the type of data and other information that you are likely to be working with, and the country that you are located in. Your location is important as the regulations regarding background checks differ from country-to-country.
Security checks completed prior to taking up your role include the signing of confidentiality agreements, and cyber security awareness training.