Why do you need global website monitoring?
The internet is a complex system with regional lines going from country to country, DNS systems ranging from ISP to ISP and various levels of behind-the-scenes caching.
When you monitor your website uptime from just one location, you're running the risk of a user in another country (or even another state) not being able to access your site and you won't even know about the website downtime.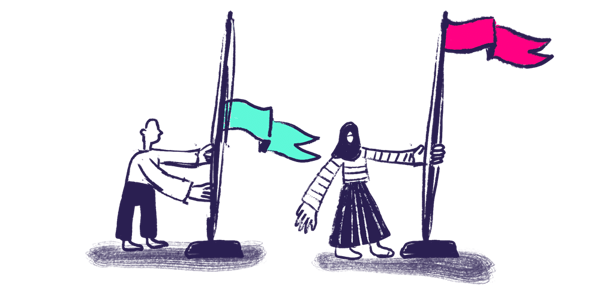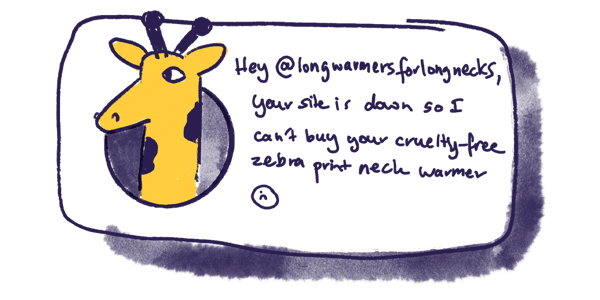 The impact of website downtime on your customers
The worst part? You'll know nothing about it until someone @'s you on social media. When you don't know about website downtime you can't react to it – you can lose customers and revenue. We make sure that you're always in the know; website monitoring in 43 different locations in 30 different countries.
Instant alerts when your website goes down
Website downtime isn't binary – if your site is up in the US, it can be down in India. We alert you as soon as we pick up on any website downtime, wherever your website is used in the world. We call it uptime monitoring you can rely on.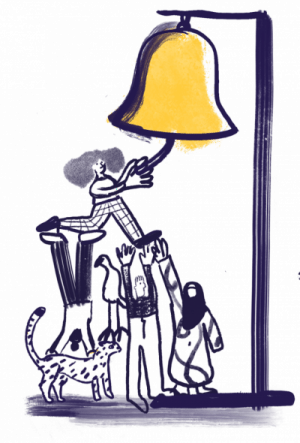 Set up the testing locations you care about
You can choose where we monitor your websites by setting which geographic areas are most important to you.
Select continents, countries or cities to monitor from so you can see website downtime from anywhere.
Testing locations
North America
| Canada | | IP Address | IPv6 |
| --- | --- | --- | --- |
| Toronto | Active | 149.248.50.29 | |
| Toronto | Active | 159.203.31.18 | |
| Toronto | Active | 138.197.140.243 | |
| Toronto | Active | 138.197.130.232 | |
| Toronto | Active | 138.197.130.235 | |
| United States | | IP Address | IPv6 |
| --- | --- | --- | --- |
| Dallas | Active | 45.32.193.13 | |
| Dallas | Active | 45.32.195.225 | |
| Dallas | Active | 45.32.195.186 | 2001:19f0:6401:14a:5400:00ff:fe37:0870 |
| Dallas | Active | 108.61.205.201 | 2001:19f0:6401:12d:5400:00ff:fe37:2eb2 |
| Dallas | Active | 45.32.192.198 | 2001:19f0:6401:14c:5400:00ff:fe37:2eb7 |
| Dallas | Active | 45.32.195.93 | 2001:19f0:6401:93:5400:00ff:fe37:2eeb |
| Texas | Active | 45.32.202.57 | |
| Texas | Active | 155.138.247.97 | |
| Texas | Active | 144.168.43.155 | |
| New York | Active | 104.131.248.65 | |
| New York | Active | 45.32.7.22 | 2001:19f0:5:342:5400:00ff:fe37:2d7f |
| New York | Active | 159.203.186.225 | 2604:a880:400:d0::a27:6001 |
| New York | Active | 159.203.182.22 | 2604:a880:400:d0::a27:7001 |
| New York | Active | 159.203.182.60 | 2604:a880:400:d0::a27:8001 |
| New York | Active | 104.131.248.78 | 2604:a880:0:1010::d3d:a001 |
| New York | Active | 104.131.247.151 | 2604:a880:0:1010::56:6001 |
| New York | Active | 107.170.197.248 | |
| New York | Active | 107.170.219.46 | |
| New York | Active | 162.243.71.56 | |
| New York | Active | 45.76.3.112 | 2001:19f0:5:33f:5400:00ff:fe37:2d7b |
| New York | Active | 162.243.247.163 | 2604:a880:0:1010::d32:6001 |
| New York | Active | 45.76.1.44 | 2001:19f0:5:340:5400:00ff:fe37:2d7d |
| Chicago | Active | 149.28.124.140 | 2001:19f0:5c01:1a6:5400:00ff:fe37:080d |
| Chicago | Active | 108.61.229.252 | 2001:19f0:5c01:1a6:5400:00ff:fe37:080d |
| Chicago | Active | 108.61.119.153 | 2001:19f0:5c01:1a9:5054:00ff:feb5:3dfd |
| Chicago | Active | 104.238.164.105 | 2001:19f0:5c01:156:5400:00ff:fe37:080b |
| Chicago | Active | 45.63.76.68 | 2001:19f0:5c01:163:5400:00ff:fe37:080c |
| Chicago | Active | 45.63.78.84 | 2001:19f0:5c01:1a6:5400:00ff:fe37:080d |
| Illinois | Active | 107.170.53.191 | 2604:a880:0:1010::d32:5001 |
| Atlanta | Active | 108.61.252.147 | |
| Atlanta | Active | 45.32.212.56 | 2001:19f0:5401:b8:5400:00ff:fe37:00fa |
| Atlanta | Active | 104.156.255.184 | 2001:19f0:5401:b6:5400:00ff:fe37:00fb |
| Atlanta | Active | 108.61.215.179 | 2001:19f0:5401:b7:5400:00ff:fe37:00fd |
| Florida | Active | 45.63.104.11 | 2001:19f0:9002:18b:5400:00ff:fe46:338d |
| Florida | Active | 45.32.166.195 | 2001:19f0:9002:138:5400:00ff:fe37:02a1 |
| Florida | Active | 45.32.160.172 | 2001:19f0:9002:17d:5400:00ff:fe37:02a2 |
| Florida | Active | 45.32.171.24 | 2001:19f0:9002:17e:5400:00ff:fe37:02a3 |
| California | Active | 107.170.227.23 | |
| California | Active | 107.170.227.24 | |
| Los Angeles | Active | 45.32.69.14 | |
| Los Angeles | Active | 192.241.221.11 | |
| Los Angeles | Active | 45.63.51.63 | 2001:19f0:6001:4ad:5400:00ff:fe37:2e33 |
| Los Angeles | Active | 45.63.61.213 | 2001:19f0:6001:27c:5400:00ff:fe37:2e79 |
| Los Angeles | Active | 149.28.79.140 | |
| San Francisco | Active | 138.68.24.60 | |
| San Francisco | Active | 138.68.24.115 | |
| San Francisco | Active | 138.68.24.136 | |
| San Francisco | Active | 138.68.24.207 | |
| San Francisco | Active | 45.32.141.163 | |
| Silicon Valley | Active | 45.63.88.213 | 2001:19f0:ac01:1e2:5400:00ff:fe37:00e9 |
| Silicon Valley | Active | 45.63.86.120 | 2001:19f0:ac01:195:5400:00ff:fe37:00ea |
| Silicon Valley | Active | 45.32.128.80 | 2001:19f0:ac01:1b7:5400:00ff:fe37:00eb |
| Silicon Valley | Active | 104.156.229.24 | 2001:19f0:ac01:1dc:5400:00ff:fe37:00ec |
Europe
| United Kingdom | | IP Address | IPv6 |
| --- | --- | --- | --- |
| Manchester | Active | 194.187.248.53 | |
| Manchester | Active | 91.239.125.60 | |
| London | Active | 178.62.104.137 | |
| London | Active | 45.63.97.4 | |
| London | Active | 108.61.197.147 | |
| London | Active | 45.76.134.164 | |
| London | Active | 45.76.135.253 | |
| London | Active | 108.61.173.0 | |
| London | Active | 45.63.96.68 | |
| London | Active | 45.76.134.85 | |
| London | Active | 45.32.183.128 | |
| London | Active | 45.76.130.43 | |
| London | Active | 45.76.129.212 | |
| London | Active | 45.76.134.198 | |
| London | Active | 104.238.185.175 | |
| London | Active | 45.76.134.237 | |
| London | Active | 45.76.135.14 | |
| London | Active | 104.238.185.46 | |
| London | Active | 104.238.186.209 | |
| London | Active | 45.76.128.250 | |
| London | Active | 104.238.171.176 | |
| London | Active | 104.238.187.61 | |
| London | Active | 104.238.174.234 | |
| London | Active | 108.61.196.37 | |
| London | Active | 46.101.20.96 | 2a03:b0c0:1:d0::1de:6001 |
| London | Active | 178.62.106.84 | 2a03:b0c0:1:d0::df:3001 |
| London | Active | 46.101.61.83 | 2a03:b0c0:1:d0::d0:3001 |
| London | Active | 46.101.27.186 | 2a03:b0c0:1:d0::91:5001 |
| London | Active | 178.62.86.69 | 2a03:b0c0:1:d0::df:a001 |
| London | Active | 178.62.41.44 | 2a03:b0c0:1:d0::5b:a001 |
| London | Active | 178.62.41.49 | |
| London | Active | 178.62.41.52 | 2a03:b0c0:1:d0::5b:c001 |
| London | Active | 178.62.40.233 | 2a03:b0c0:1:d0::5c:2001 |
| London | Active | 178.62.80.93 | 2a03:b0c0:1:d0::2e5:1001 |
| London | Active | 178.62.71.227 | 2a03:b0c0:1:d0::2e5:2001 |
| London | Active | 46.101.0.24 | 2a03:b0c0:1:d0::44f:1 |
| London | Active | 139.59.190.241 | |
| London | Active | 178.62.78.199 | 2a03:b0c0:1:d0::5e:f001 |
| London | Active | 209.222.30.242 | 2001:19f0:7402:1ab:5054:00ff:fec5:d750 |
| London | Active | 46.101.74.251 | 2a03:b0c0:1:d0::df:6001 |
| London | Active | 178.62.65.162 | 2a03:b0c0:1:d0::df:4001 |
| London | Active | 178.62.109.7 | 2a03:b0c0:1:d0::df:b001 |
| London | Active | 37.157.246.146 | |
| Isle of Man, Douglas | Active | 37.235.55.35 | |
| Switzerland | | IP Address | IPv6 |
| --- | --- | --- | --- |
| Zurich | Active | 178.209.51.248 | |
| Zurich | Active | 95.183.51.139 | |
| Zurich | Active | 178.209.50.245 | |
| Zurich | Active | 178.209.50.251 | |
| Sweden | | IP Address | IPv6 |
| --- | --- | --- | --- |
| Stockholm | Active | 178.73.210.92 | |
| Stockholm | Active | 178.73.210.196 | |
| Stockholm | Active | 178.73.210.23 | |
| Spain | | IP Address | IPv6 |
| --- | --- | --- | --- |
| Madrid | Active | 37.235.53.240 | |
| Madrid | Active | 37.235.53.156 | |
| Russia | | IP Address | IPv6 |
| --- | --- | --- | --- |
| Novosibirsk | Active | 185.135.81.201 | |
| St Petersburg | Active | 213.183.54.66 | |
| Moscow | Active | 213.183.56.85 | |
| Moscow | Active | 213.183.56.79 | |
| Poland | | IP Address | IPv6 |
| --- | --- | --- | --- |
| Warsaw | Active | 37.235.48.42 | |
| Warsaw | Active | 37.235.48.146 | |
| Netherlands | | IP Address | IPv6 |
| --- | --- | --- | --- |
| Amsterdam | Active | 188.226.203.84 | |
| Amsterdam | Active | 188.226.184.152 | 2a03:b0c0:0:1010::3a5:1 |
| Amsterdam | Active | 188.226.135.210 | |
| Amsterdam | Active | 188.226.169.228 | 2a03:b0c0:0:1010::386:7001 |
| Amsterdam | Active | 188.226.185.106 | 2a03:b0c0:0:1010::39c:2001 |
| Amsterdam | Active | 188.226.186.199 | |
| Amsterdam | Active | 188.226.171.58 | 2a03:b0c0:0:1010::539:9001 |
| Amsterdam | Active | 188.226.158.160 | 2a03:b0c0:0:1010::385:4001 |
| Amsterdam | Active | 188.226.247.184 | 2a03:b0c0:0:1010::349:e001 |
| Amsterdam | Active | 188.226.139.158 | |
| Italy | | IP Address | IPv6 |
| --- | --- | --- | --- |
| Milan | Active | 193.234.225.128 | |
| Milan | Active | 192.71.26.29 | |
| Ireland | | IP Address | IPv6 |
| --- | --- | --- | --- |
| Dublin | Active | 217.78.0.171 | |
| Dublin | Active | 185.224.196.223 | |
| Iceland | | IP Address | IPv6 |
| --- | --- | --- | --- |
| Reykjavik | Active | 37.235.49.12 | |
| Hungary | | IP Address | IPv6 |
| --- | --- | --- | --- |
| Budapest | Active | 194.71.130.16 | |
| Germany | | IP Address | IPv6 |
| --- | --- | --- | --- |
| Frankfurt | Active | 138.68.80.173 | |
| Frankfurt | Active | 46.101.110.43 | 2a03:b0c0:3:d0::216:9001 |
| Frankfurt | Active | 138.68.80.10 | |
| Frankfurt | Active | 46.101.110.45 | 2a03:b0c0:3:d0::216:a001 |
| Frankfurt | Active | 157.230.121.36 | |
| Frankfurt | Active | 46.101.110.32 | 2a03:b0c0:3:d0::b61:9001 |
| Frankfurt | Active | 138.68.77.156 | 2a03:b0c0:3:d0::216:9001 |
| Frankfurt | Active | 139.59.155.26 | |
| Frankfurt | Active | 206.189.49.237 | |
| Frankfurt | Active | 64.225.109.248 | |
| Frankfurt | Active | 139.59.152.248 | |
| Frankfurt | Active | 46.101.240.208 | 2a03:b0c0:3:d0::173:b001 |
| Frankfurt | Active | 46.101.238.182 | 2a03:b0c0:3:d0::179:a001 |
| Frankfurt | Active | 46.101.238.189 | 2a03:b0c0:3:d0::179:b001 |
| France | | IP Address | IPv6 |
| --- | --- | --- | --- |
| Paris | Active | 45.32.151.21 | 2001:19f0:6801:b6:5400:00ff:fe2d:9386 |
| Paris | Active | 107.191.47.131 | 2001:19f0:6800:8784:5400:00ff:fe05:7fa6 |
| Paris | Active | 45.32.145.79 | 2001:19f0:6801:ba:5400:00ff:fe2e:556f |
| Paris | Active | 45.76.44.221 | |
| Paris | Active | 140.82.52.199 | |
| Paris | Active | 199.247.9.63 | |
| Paris | Active | 140.82.52.51 | |
| Paris | Active | 45.76.23.8 | |
| Belgium | | IP Address | IPv6 |
| --- | --- | --- | --- |
| Oostkamp | Active | 192.71.249.35 | |
| Denmark | | IP Address | IPv6 |
| --- | --- | --- | --- |
| Copenhagen | Active | 185.134.28.17 | |
Africa
| South Africa | | IP Address | IPv6 |
| --- | --- | --- | --- |
| Johannesburg | Active | 154.16.63.24 | |
| Johannesburg | Active | 154.127.60.59 | |
| Johannesburg | Active | 169.239.183.200 | |
Asia
| Singapore | | IP Address | IPv6 |
| --- | --- | --- | --- |
| Singapore | Active | 128.199.222.65 | |
| Singapore | Active | 188.166.253.148 | |
| South Korea | | IP Address | IPv6 |
| --- | --- | --- | --- |
| Seoul | Active | 141.164.58.9 | |
| Seoul | Active | 141.164.35.233 | |
| Seoul | Active | 141.164.48.161 | |
| Japan | | IP Address | IPv6 |
| --- | --- | --- | --- |
| Tokyo | Active | 108.61.162.214 | 2001:19f0:7001:18cd:5400:00ff:fe03:86f7 |
| Tokyo | Active | 45.63.121.159 | 2001:19f0:7001:76c:5400:00ff:fe2c:0bea |
| Tokyo | Active | 45.32.36.158 | 2001:19f0:7001:18c4:5400:00ff:fe37:0413 |
| Tokyo | Active | 207.148.106.182 | |
| Tokyo | Active | 45.77.23.81 | |
| Tokyo | Active | 45.76.192.50 | 2001:19f0:7001:18d6:5400:00ff:fe37:0412 |
| Israel | | IP Address | IPv6 |
| --- | --- | --- | --- |
| Tel Aviv | Active | 193.182.144.211 | |
| Tel Aviv | Active | 185.241.7.23 | |
| India | | IP Address | IPv6 |
| --- | --- | --- | --- |
| Bangalore | Active | 139.59.15.79 | 2400:6180:100:d0::8e:e001 |
| Bangalore | Active | 139.59.29.167 | |
| Bangalore | Active | 139.59.26.85 | |
| Bangalore | Active | 139.59.22.109 | |
| Australia | | IP Address | IPv6 |
| --- | --- | --- | --- |
| Sydney | Active | 45.76.123.211 | |
| Sydney | Active | 108.61.212.141 | |
| Sydney | Active | 107.191.57.237 | |
| Sydney | Active | 45.76.122.71 | |
| Sydney | Active | 45.77.235.246 | |
| Sydney | Active | 45.63.26.78 | |
| Hong Kong | | IP Address | IPv6 |
| --- | --- | --- | --- |
| Hong Kong | Active | 158.255.208.76 | |