Over the last few weeks we have been working hard to develop the next steps for our domain monitoring feature, and today you'll see a range of new and advanced functionality implemented in-app.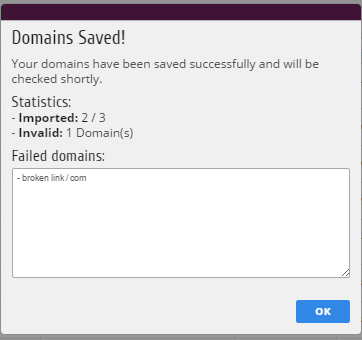 First off – we have added a completely new way to add the domains in-app, the system will guide you through a process with several steps, and will validate your entries at the point of submission, meaning a typo, duplicate or wrong setting will be picked up on right away – and you'll be notified on any errors in the new submission summary window. The new submission system will also automatically detect the validity of the domain, if invalid it won't be added to your list – saving valuable time.
Another improvement can be seen in terms of the number of TLD's we now support, we are currently able to check over 250 different TLD's , we provide an easy to access list in app too, so now when adding a domain you won't be in for any unexpected results.
We have a brand new settings page for the domains which offer more configurable options in a cleaner layout. It's now possible to set the start and expiry dates on this page – as well as enabling blacklist monitoring, domain expiration alerts, and record change notifications. By putting everything in one place and improving the layout we are hoping to improve a much smoother experience with reduced time spent on setup for each test.
We have also begun to pull through much more information regarding each Domain, you'll now be able to see the full details concerning technical, administrative, and owner contacts from the WHOis on the details page for each domain.
A much requested feature that has also now been implemented is the option to run a forced re-crawl of Domain status and expiry, this can be very useful for occasions where you know that the data has been updated, and need to pull through the most recent info quickly. You can force crawl each domain once per 24 hours.
We've made it easy to guard against domain hijacking and be alerted quickly if it occurs! If an unauthorized entity manages to gain control over your domain in order to point it to a different website, we can alert you using our monitoring of the records – the moment we see an unexpected result you'll be alerted by your chosen method.
As well as being able to force a re-check on the domain, we have now changed the way that the system crawls when we are close to expiry, instead of the standard 7-day crawl we will begin to check daily when expiry is near.
If you want to check out our new functionality for Domains and already have a paid account with us, these new tools and features will be available across all domains previously added, if you have yet to upgrade to a paid plan then now is the perfect time to come on board for this improved functionality.
Read More:  Knowledge Base – Domain Monitoring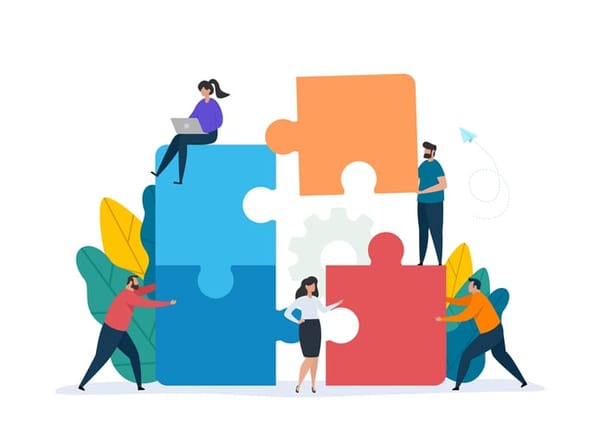 Engineering
7 min read The term "Design Pattern" describes a well-known and battle-tested solution to a problem that developers tend to encounter again and again when developing software. Here's our step-by-step guides to the most useful ones!